LAØBY Amateur Radio Equipment
&nbsp
Setup at home in JO59FW for 50/70/144 MHz
| | |
| --- | --- |
| At home I have only a small sation and a little shack. Primary antennas are a Vårgårda 9-ele-yagi for 2m on top and 3-ele-yagi for 6m. The horizon is good only from SE to S. | During the Es season I often install an additional 3-ele-yagi for 4m. The picture shows a larger 5-ele yagi set up for testing. Both yagis are in 28 Ohms design according to DK7ZB. |
| For 2m the IC-821H is driving a 4 x 4CX250B PA, and for 6m the IC-706 (mostly listening for Es monitoring). | For 4m I use an OZ2M transverter with FT-817 on IF, providing 25 W RF power. |
&nbsp
144 MHz: Portable setup
| | |
| --- | --- |
| Transceiver IC-821-H or K3/XVTR, with PA 180 or 300 W | Antenna 2 x 9-ele-yagi (Vårgårda, OZ5HF) |
| The mast is attached to the car for easy setup. No additional guy wires are needed. | The phasing cables are made from Aircell 7, whereas the main feeder is Aircom Plus cable. |
&nbsp
432 MHz: Portable setup
Transceiver IC-821H with PA 120 W, antenna 2 x 13-ele-yagi (Vårgårda, OZ5HF).

Setup with single 17-ele yagi for 70 cm often used for multi-band operations (here with 3 cm).
&nbsp
1296 MHz: Portable setup
For 23cm the FT817 is operating at 144 MHz IF with DB6NT XVTR, PA 15W

The XVTR is mounted directly under the 23-ele-yagi, providing lowest possible feeder loss.
&nbsp
10368 MHz and 2320/2400 MHz: Portable setup
DB6NT 3cm XVTR with 6W PA by DL2AM fitted at Procom 48cm dish

LZ5HP 13cm XVTR, 2W out, fitted to F9FT 25-ele-yagi antenna
13 cm and 3 cm transverters on same mast, view shows my horizon from OH to LY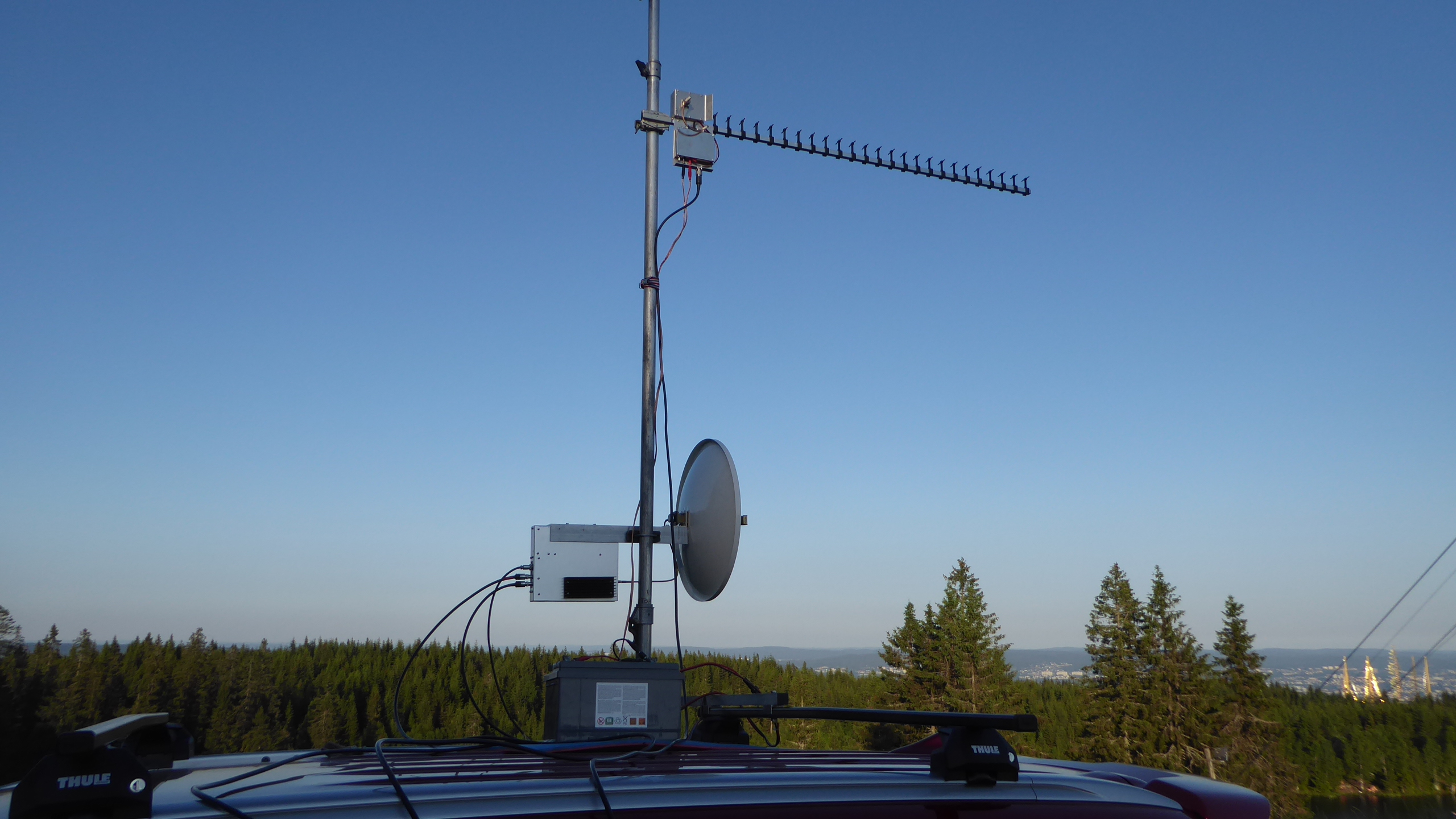 This page was last updated on 23 July 2020